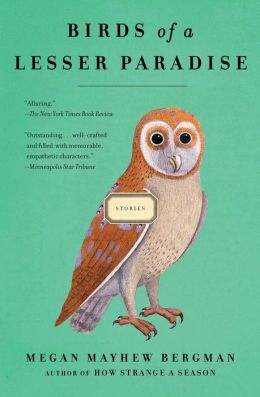 Birds of a Lesser Paradise
by Megan Mayhew Bergman
This book of stories was another one of my superficial selections in which I used the "pick a book based on its cover" technique, though I think I might have discovered the book through a review from the
Boston Globe
. That's the nice thing about tracking my books using Pinterest - I know where the heck I uncovered these titles! My book picks based on covers don't usually work out, but this one did!
First, I didn't even realize this was a book of stories because I was captivated by the cool title and the cute owl. Once I started reading, I knew I liked the writing, the author's voice and the tightness of the stories. Each story had a female protagonist and almost all of them really spoke to me. The quandaries that each story highlighted were actually pretty mundane problems - daughters having mommy issues, spouses having disagreements about having a child - but Bergman knows how to spin a story and keep you hooked until you realize "Oh, right, I'm reading short stories and that one's done."
Bergman's characters are great, there is just enough dialogue and it's awesome and, my favorite part, EVERY story has a critter woven into it. I was reviewing the book club questions and one asked how the animals have an effect on each human in the stories. As I pondered that, I had to laugh at how much I enjoy animals in fiction. The mundane, when done right, is pretty incredible. Bergman does it right.
I'd say the only problem with the stories was sometimes I found that the main characters seemed similar and I had to use the animals to navigate my brain back to the fact it was a different story. It's sort of funny because while the human characters seem the same, the stories are all very different and interesting. I felt very satisfied with the range of experiences that this book took me on.
Nonetheless, Bergman is a skilled writer. This is her first book, but you can bet I will keep an eye out for this writer's new stuff.
On a personal note, I really enjoy having a mix of reading available. I usually like to read one work of fiction, one of non-fiction and then I like to keep a book of short stories or poems on hand. This mix doesn't overwhelm me and gives me an option when I need a change of pace. I can't believe I wasted so much of my reading time stuck on one book for so long!